Our success stories.
We aim to create raving fans of all our clients. See what people are saying about us.
Who we are.
Since 2009 realocate has been serving Chicagoland buyers and sellers with stellar results. Owned by Joey Chiappetta & Adam Ordish, we have been Top Producers every year since 2012, reaching Top 1% in 2020. We have
helped hundreds of people buy and sell homes, investment properties, rehabs and more.
Our core values set us apart from the rest. We lead with care, putting client needs before profits and focusing on achieving your goals in real estate. realocate is a boutique, full-service real estate brokerage and is proudly LGBT-owned and operated.
All are welcome here, so feel at home.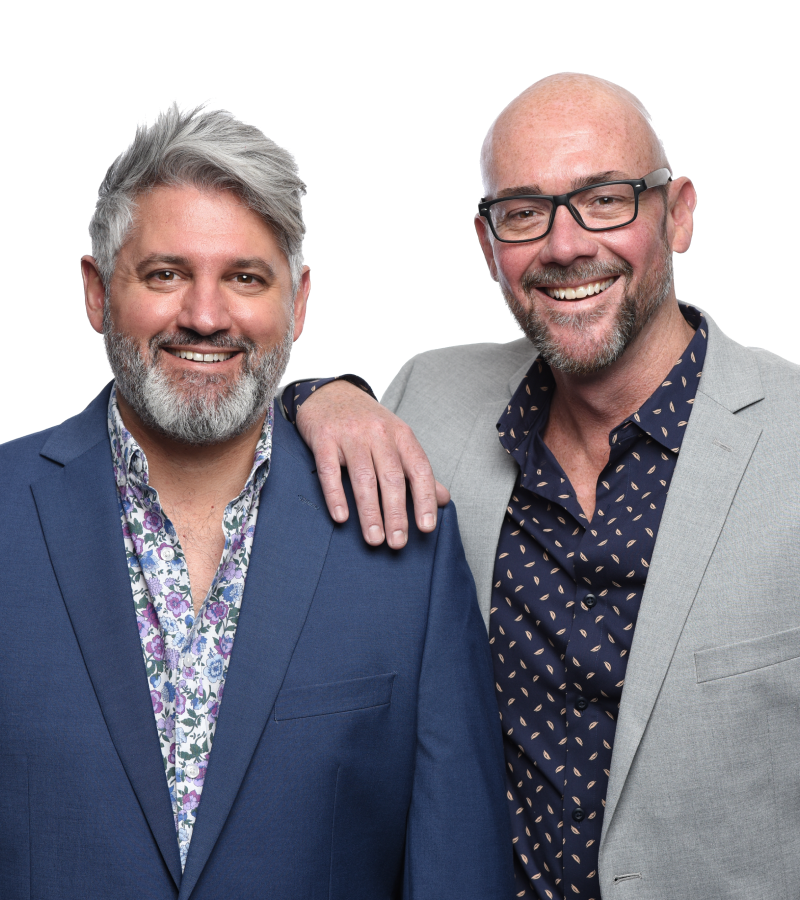 "Joey and the whole team were incredibly helpful from start to finish. 11/10 recommend for anyone looking to find their new home!"
"Joey was very professional and his wealth of experience showed. The team was always ready to join me for a showing and ask all of the right questions. I felt very confident choosing a new home with Realocate and highly recommend them."
"To say working with Joey was a pleasure is an understatement.  His honesty, availability, and sheer kindness was an absolute delight to be met with after a big move from California.  He went far beyond what would probably normally be asked of a realtor and I could not be more happy with my new apartment.  Thank you from the bottom of my heart!"
"I used Joey and his team for both my purchase and sale, which were happening at the same time- which normally would drive anyone insane.  Not only were both processes handled perfectly, Joey was honest, trustworthy, dependable and completely transparent throughout the process and it would never have gone as smoothly as it did were it not for his diligence and professionalism.  I recommend the POC team to anyone I can, as often as I can!"
"Working with Joey and Adam was an absolute dream. They made the house hunting process fun and easy, and we couldn't recommend them enough!"
"I am an attorney and I worked with Joey and Adam on a project. I don't usually do this, but I really wanted to leave them feedback because they were incredibly responsive, professional, and terrific throughout the process.   I was able to observe them from a distance and I saw that they treat their clients exactly how I treat mine, with patience, respect, and humility.  And you can tell that they love what they do- they have a passion for real estate and for helping their clients and it's not just a job for them and it's not about the commissions.  I haven't been so fortunate to be a real estate client of theirs yet, but if I were looking for a real estate agent, I would select them in a heartbeat."
"I don't think I've ever had an experience that went so smoothly. I needed someone that could help me with the unknown. It was my first time buying a home. I don't know what to ask and I'm too busy to even google "what do I need to know about buying a new home?" I didn't need to. Joey anticipated my needs based on a few conversations about what we wanted. People would ask me if I was stressed out yet and I kept thinking "maybe I'm missing something. Is this supposed to be stressful?"We met to review the entire process, what to expect, things I should know, who I need to call when, what an escrow is. Everything about his approach was calming. I felt taken care of. I felt like he had my best interests in mind, like he was my Realtor Dad. He has a unique way of picking up on interests. I could tell each time we spoke it's like he somehow mentally cataloged any nuance in our conversation and he'd give me this look like he already knew if I wasn't interested in something. I value that level of efficiency. It's priceless. When we looked at places, he'd teach me what I needed to know about that type of place, the questions I'd need to ask to make sure the home fit me and I knew how it functioned. I didn't need Google or a manual on how to buy a home. I needed a Joey. When I move again, and it's going to happen at some point once I'm done with grad school, I hope I can take him with me because I couldn't work with anyone else after this. No one else would compare. Thank you Joey!"
"I have now worked with Joey and his team on three real estate transactions, and every time they have delivered nothing short of exceptional service and professionalism. They take a process that can be so complex and challenging and work incredibly hard to make sure your interests are put first. They are truly a pleasure to work with, and I can not recommend them highly enough!"
"Joey and his team are GREAT! From start to finish, Joey was incredibly professional, knowledgeable and organized. My husband and I were first time home-buyers and knew very little about the process when we started. Joey made everything easy to navigate. He and his team were incredibly responsive to texts, emails and calls whenever we had questions, and we always felt like Joey always gave us honest answers and advocated on our behalf, even in times when it would mean less money for him in the end. He was direct and straightforward in his opinions about different houses we saw, and really helped us in making final decisions about offers and negotiations. He also linked us with a broader network of people/companies for our loan, home insurance, attorney and inspection - all of which were also great. Awesome from start to finish - highly recommend!"
"My husband and I were in a tough position of trying to find a house within a 3 month time frame and from across the country (moving from CA to Chicago!) Joey was our savior!! He was a terrific realtor with sending great inventory, going to see places in-person, giving us honest feedback, and trying to make the whole stressful process easier. His team, Adam and Cam, are also amazing and were so helpful. He talked us out of a few bad options because the deadline pressure was getting to us which is a sign of a realtor that really cares. He ended up finding us our dream house in Irving Park on a wonderful street. We're in our 3rd month of living here and loving it! Can't recommend this agency enough!"
"Joey and all that was apart of me and my husband's home buying process really made our experience one to remember. I've never met someone as pleasant, informative, and thorough as those working at realocate. From the time we met with Joey to discuss our needs for our home and the process it will take to the time we closed, Joey was there to help even if he was coming by or talking with us remotely just for support. We truly couldn't have went through this process without the amazing team at realocate. I would definitely recommend them to anyone!"
"Joey and his team have been great partners over the years. We have appreciated their insights, recommendations and professionalism throughout our time in Chicago."
"Joey, Adam, and the rest of the crew are simply the best. We bought our place in 2021 in the height of the housing market madness and somehow they made the process fun and enjoyable. They took their time to help us understand the process, actively talked us out of homes that they didn't feel were good buys for us, and genuinely cared about us finding the right home. They worked hard to find us a home rather than a quick sale. We recommend them to anyone who is house hunting and wouldn't use anyone else ourselves!"
"Joey and Adam are simply the best! They are honest, hilarious, and patient. This team really got to know our family in order to provide meaningful feedback for us/our needs. Realocate took their time (we looked at so many places) to make sure we ended up with the right house. We love our place and are so grateful to have worked with them! Can't recommend enough!"
"Joey is amazing! He really knows the local real estate market and was my trusted partner in my search for a new home. He also has a keen eye and noticed all the little details that I would have overlooked that indicated how well a home had been maintained. He wanted to make sure that I found the perfect new home (and I did!)."
"Joey and Adam are a pleasure to work with. They are knowledgeable and supportive not to mention FUN. I valued their honesty and assistance when purchasing my condo at the height of the pandemic. I could not have done it more comfortably with anyone else."
"Excellent to work with on the other side of a transaction. My buyer bought one of Joeys listings and the whole process was a pleasure. The deal had some bumps come up after inspection but they were dealt with effectively and with great communication on their side. Looking forward to working with these guys again. Recommend!"
"Joey and his team are great! He will be there every step of the process and is a great advocate. If you are first-time homeowner, we highly recommend!"
"Joey and Colton helped us sell our home, and they were an absolute pleasure to work with. They were knowledgeable and helpful throughout the whole process, which alleviated a lot of the stress for us. They made the extra effort of being present at all of the showings (most realtors just give the buying agent the lockbox code), to answer any questions and to give us some immediate feedback. And they were so great with their communication - always responsive and always kept us in the loop. We would highly recommend them to anyone."
"Joey and Adam came into the picture after our first realtor was not able to get us a single bid after 5 months time on the market.  I was impressed at our first appointment when Joey delivered an amazing video presentation and incredibly thorough market analysis; he had really done his research which included speaking with other realtors who had successfully sold units in our complex. After Joey and Adam took over there was an immediate surge of walk-throughs coming through our home during what is typically the slowest home buying time of the year. Because of their hard work, wide network of contacts and along with their great reputation and personalities, they were able to generate a lot of interest in our property. We quickly received multiple bids and our closing went smoothly. I give them my highest recommendation and without reservation!"